The Internet of Things architecture implies at least three levels: IoT devices ("things"), an edge gateway, and the cloud. IoT platforms provide the two highest levels that devices communicate with using specific protocols. Let's figure out how to connect IoT devices to the cloud. What criteria should be used to choose a connection standard, and what are the pros and cons of popular protocols?
Criteria for choosing the method of connecting IoT devices
When selecting the best way to connect and control an IoT device, manufacturers focus on three critical criteria:
power usage,
range,
bandwidth.
Which of the existing connection protocols is optimal depends on the device's specifics. For example, the well-known Wi-Fi data exchange protocol is suitable for IoT devices located in the home or office and permanently connected to the power grid. Its main advantage is the low cost of operation. Disadvantages are constant energy consumption and limited range. These are serious disadvantages that limit Wi-Fi use in the world of the Internet of Things.
An energy-efficient protocol is required if the device cannot be permanently connected to the power grid. So, the BLE standard is better for small sensors – they can work from a miniature tablet-type battery for more than a year.
These are examples that relate to small-range networks. If a long-range is needed to deploy IoT solutions, different protocols are used. Let's consider them in more detail.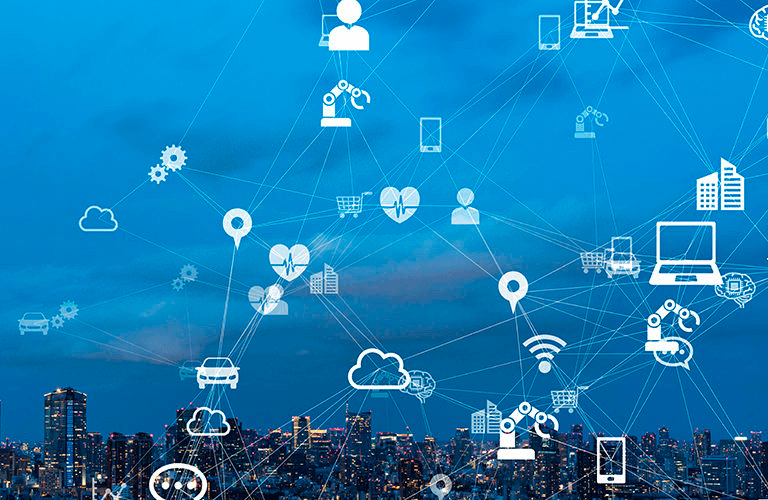 Protocols for connecting and management of IoT devices
For short-range networks
Short-range networks are used in small environments – primarily at home, offices, and small compactly located enterprises. These are economical networks, most of which are characterized by low power consumption.
Bluetooth
This protocol can transmit voice and data at high speed within a 10-meter range. It is most often used to unite various devices around one user: smartwatches, wireless headsets, and fitness bracelets.
BLE
A kind of Bluetooth with significantly reduced power consumption and an extended range of up to 100 meters. It is used in consumer electronics to transmit sensor data – for example, in wireless temperature sensors.
Bluetooth 5
A standard initially focused on IoT devices. It has a higher data transfer rate than Bluetooth 4 and a more extended range of 200 meters.
NFC
A set of protocols provides data transmission at low speed and a short distance (up to 40 mm). It is used as an auxiliary when two devices interact.
Wi-Fi/802.11
A standard option for small environments. It is inexpensive to operate but requires constant energy consumption. The protocol is used in IoT devices connected to the power grid, such as "smart" lamps, sockets, and household IoT devices.
Z-Wave
A low-power wireless protocol for connecting devices to each other. It is used for environmental monitoring and control IoT devices for smart homes or commercial facilities.
Zigbee
A low-power protocol is used for simple device communication and for creating low-cost personal area networks with small digital radios. It is suitable for control and surveillance and for applications requiring secure data transmission.