White label mobile app branding checklist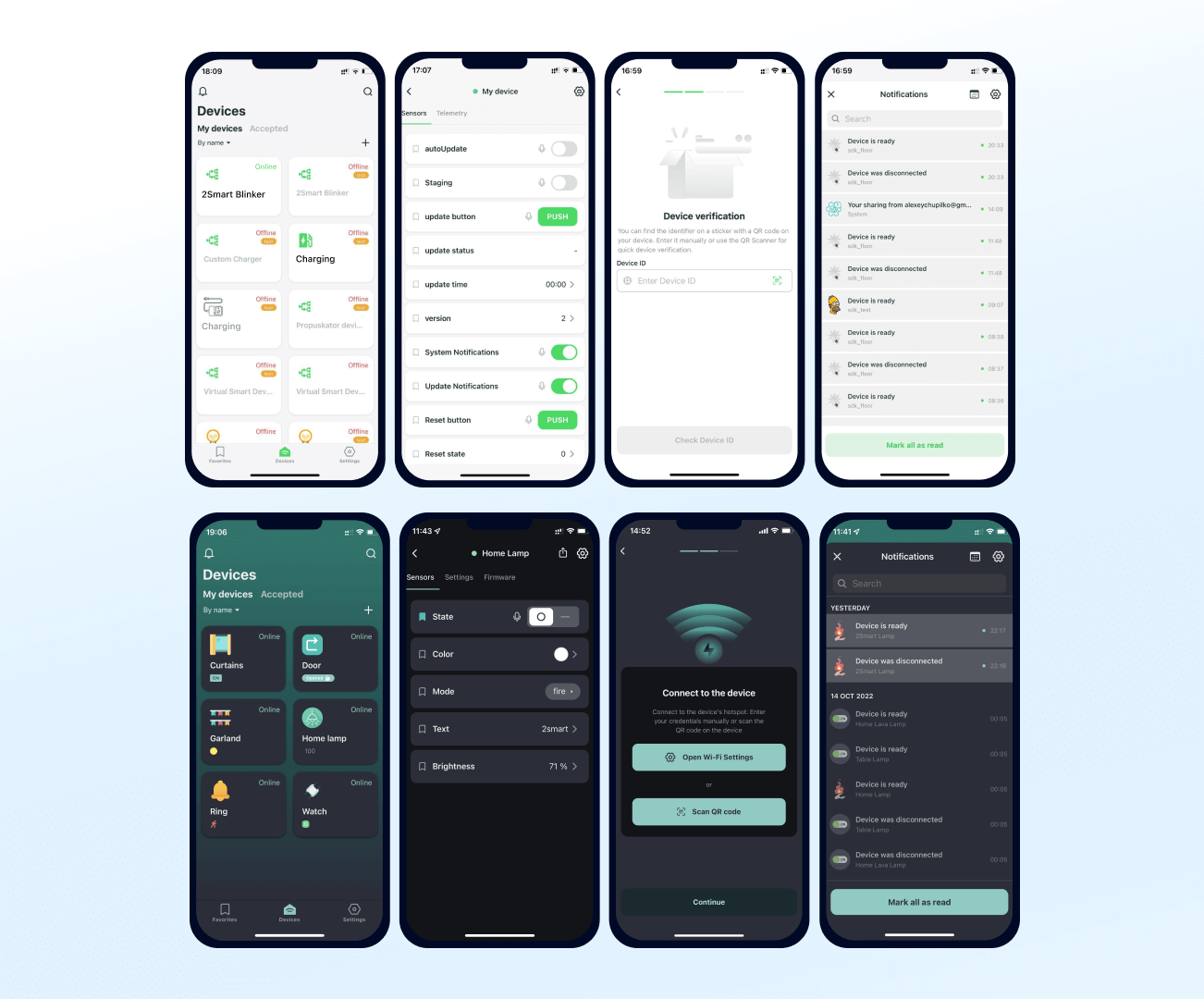 Please provide the 2Smart team with the following materials and info to brand a mobile application for your company within the white-label model.
Please note that the 2Smart team can take care of most of the steps below for an additional fee.
1. Branding materials
1.1. Application title
The app name is usually the same as your brand. Try to use a short title so that the smartphone user can see it in its entirety.
1.2. Logos
Your brand logo is used in the mobile application's design and as its icon. We need the following two logo files:
Logo for an app interface - in SVG format.
App icon - in SVG format.
1.3. Brand book or color palette
Customizing the color scheme of a mobile application is the most important stage of branding. To do this, our team needs a list of primary and secondary colors to be used in the app's design.
The color palette of the 2Smart Cloud mobile application is shown below as an example. Please provide us with either the same finished palette or your brand book for color matching by our designer.
Color
Color name and hex code
What is the color for
GREEN MAIN
#07C0B0
Primary color of buttons, the color of spinners, checkboxes, bookmark of selected widgets, highlighting of active tab navigation, selected language and theme in settings, icons in the right parts of the input, text of links, default icons of devices.
GREEN LIGHT
#DAF6F3
Сolor of the secondary buttons.
#D7F2EF
The initial color of the gradient background.
GREEN STRONG
#40817D
Text color of secondary buttons, copy buttons.
GREY STRONG
#8D9796
Color of icons and secondary text.
GREY MEDIUM
#B4BDBD
Input border color, the title of the disabled button.
GREY LIGHT
#EEEEEE
The color of disable buttons, divider lines, a background of the info blocks.
#F7F7F7
Secondary background screens (for example, screens of widgets, instructions).
WHITE MAIN
#FFFFFF
The main color of the background, the title of the main buttons, the final color of the gradient.
BLACK MAIN
#1B312F
Primary color text, dark icons.
Our designer can choose the primary and secondary colors for your application according to your brand book.
The base mobile application branding rate includes the creation of one appearance. The development of several application themes (for example, dark and light with the possibility of switching them by the user) is possible at your request for an additional fee.
2. Supported languages list
By default, the mobile application is only available in English. If you need localization into one more language, we will provide you with a file with the text content of the application, which you will need to translate.
Localization into more than one additional language is subject to agreement.